Stevens Antique Trunks
We are located in northeastern NEW JERSEY (minutes from New York City). Please take a few moments to visit the various areas here and acquaint yourself with the beauty and functionality of refurbished antique trunks!


Newly refurbished Wardrobe Trunk!

Use for storage or display in your Living Room, Bedroom or Family Room.

Call 201-913-2043 Today for Details!
This Old Trunk

by Stanley C. Stevens Sr.
Trunkmaster

This old trunk lived in our attic
A good forty years or so
Bought it when we first were married
To store fond memories as we grew old

Painted gray it occupied its corner
Was visited at times to store things of past
Grew dusty, dirty and very neglected
Looked very much like a relative outcast

Now that I'm retired and somewhat inactive
Decided to refurbish it and seek
Its hidden beauty and potential value
After breathing new life into this American antique

Took it to my basement workshop
And planned its future with great pain
Cleaned it, stripped it, stained it, added new hardware
Then dressed it in a coat of polyurethane

When finished it sparkled like a new star
That found its place among the many things
In our house where life is precious and guarded
It's now used to fill a storage need
---
Do you have an old musty antique trunk in your basement or attic? Would you like to have it revitalized and refurbished so that it could become a useful piece of furniture? At STEVENS ANTIQUE TRUNKS , we can restore and revitalize your antique trunk, if it is in reasonably fair condition. Once refurbished, your trunk can be used as a decorative coffee table, end table or storage unit for clothes, blankets, linens, toys, keepsakes, etc. It will add an Early American dimension to your home, making it a unique conversation piece, showing a special interest in your family heritage.
Antique steamer trunks are part of American history and are becoming very rare. Once used to transport personal belongings on sailing vessels, railroads and even covered wagons in early American frontier days, an old trunk may be remodeled by us to become a very artful and functional part of your household. If you care to own a useful and decorative piece of Americana, please call or E-mail us.
SERVICE AREA - Our service area covers NEW JERSEY, New York City, southeastern NEW YORK state, southwestern CONNECTICUT and northeastern PENNSYLVANIA.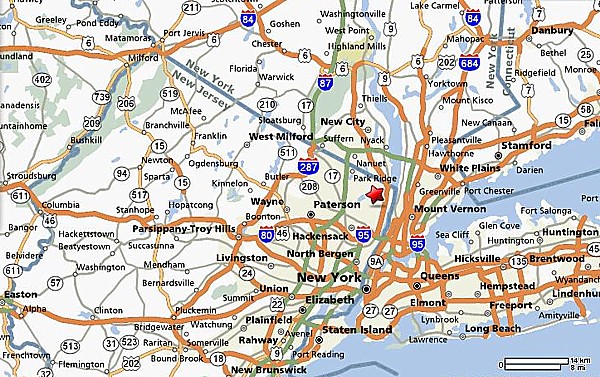 Located in Northern New Jersey just minutes from the George Washington Bridge
---
Unrefurbished Trunks
NOW AVAILABLE!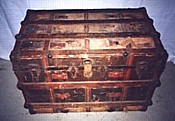 Click HERE for Details!
---
---
"How to Refurbish Your Antique Trunk"

Order the Manual TODAY!
Click HERE for more information
---
---
Are you looking to purchase an antique trunk? Do do you have one you want to sell? Check our Classified Ads for details!
Do you need help in refurbishing your antique trunk? Visit our Manual page for information on how to purchase the "How To Refurbish Your Antique Trunk!" Manual!
See the "BEFORE AND AFTER" section which features photographs of several old trunks, in their original condition, and how they look after they were refurbished and revitalized.
Visit our PHOTO SECTION, with NEW TRUNKS just added! See photographic samples of various antique trunks that we have refurbished and/or remodeled.
Visit THE LINKS PAGE, with links to several other quality trunks and antique websites with related areas of interest.
Do you need a key for your Antique Trunk? Do you have a locked trunk with no key? We can help - check our Antique Trunk Keys page!
---
Stevens Antique Trunks
61 Harrington Avenue
Closter, NJ 07624
Phone: (201) 913-2043
E-mail: E-mail: info@stevensantiquetrunks.com
www.stevensantiquetrunks.com